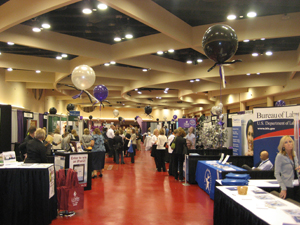 From October 9th through the 10th, Royal Recognition is heading to the 2013 Wisconsin SHRM State Conference in La Crosse.  Hundreds of diverse companies from all over the state will join RRI at this event to reach a wide range of human resource professionals.
Employee reward programs are essential to employee engagement. According to WorldatWork, a nonprofit human resources association: "To keep these valued employees from searching for greener pastures, firms must address their employee engagement challenges and focus on reward programs that have the most impact on retention." At the WISHRM Conference, Royal Recognition will demonstrate how reward programs assist companies to ensure current employees are pleased with their position, and thus be less likely to look for new opportunities in an advancing economy.
Come meet Royal Recognition: one of the few companies in the industry to offer both Service Award, On the Spot and Peer-to-Peer Recognition Programs alongside promotional items and incentive rewards. Royal Recognition offers a wide range of services that keep employees motivated to work hard, and ultimately be more satisfied with their employers.
Can't wait until October? Drop us a line today at sales@royalrec.com!